Witchboard is one of those movies I first saw when I was fairly young and that left quite an impression on me. It wasn't so much that I really liked or hated the movie, I could only remember parts of two scenes, it was more about how it made me feel. I remembered that it made me scared of Ouija boards for a long time. Specifically, it put the idea in my head that using a Ouija board by myself was probably a bad idea which is something that I still remember to this day. With that in mind I was pretty excited to watch it again, but like many things from our youth that seem different when we revisit them, Witchboard doesn't really have the same effect on me today that it did when I was a kid.
Witchboard stars Tawny Kitaen as Linda, a woman who finds herself in the middle of a love triangle between two former best friends. She's currently living with Jim, an underachieving guy with a troubled family history, but Brandon, Jim's childhood friend who has made a success of himself, is in love with Linda. The two men are quick to argue, so when Brandon uses a Ouija board with Linda at a party, Jim's antagonistic remarks get under Brandon's skin and cause the Ouija session to go badly, angering the spirit Brandon is trying to contact. The next day, Linda finds that Brandon accidently left his Ouija board behind. Curious, she begins using it to try and contact spirits on her own (against Brandon's warnings) which leads to bad things happening for Linda and those around her.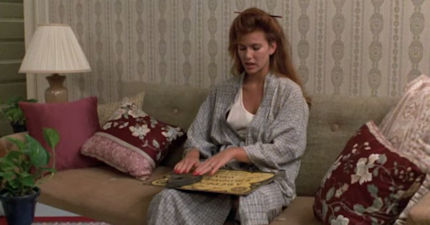 Witchboard plays out as a thriller more than strictly a horror movie. There are a few creepy moments, but for the most part it centers on some mysterious happenings (and deaths) and Linda's deteriorating state of mind. Jim doesn't buy any of the supernatural explanations at first, but Brandon is sure that he knows what's happening to Linda. After a certain point, the movie turns into a mystery where it's a race against time to find out who or what has been talking to Linda.
The movie isn't terrible, but it's not very scary either. One of the few scenes that had potential for being frightening is a seance where Brandon tries to contact the spirit that's been talking to Linda, but all of the scares are offset by the comic-relief medium named Zarabeth that Brandon has with him. One fairly creepy moment is a dream that Linda has in the later part of the movie, but it's just a momentary fright. Even the climax of the movie feels more like a thriller or drama than anything else.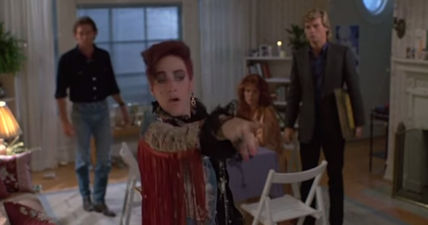 There are good parts to Witchboard though. For one, it was directed by Kevin Tenney who would go on to direct the classic Night of the Demons just two years later. You can see some similarities in these two movies in places like the point-of-view shots of the spirit chasing people, or in Tenney's apparent enjoyment of tossing people out of windows. He also adds some nice subtle touches like on the Ouija board itself. If you look closely, you can see it change slightly depending on what's going on in the scene. It's one of those subtle elements that not everyone will notice, but it makes the movie a little deeper than it would have been otherwise.
Also, there's not a lot of action in the movie, but at times the action that is there can feel kind of awkward. One of the more effective pieces of action takes place early in the movie when there's an "accident" at a construction site, but certain scenes (like the aforementioned window tossings) just look odd. It seems like Tenney was still learning how to direct action effectively, something that he worked out for the most part by the time he got to Night of the Demons.
In the end, Witchboard is ultimately about Jim and Brandon's relationship, and more specifically, Jim's realizations about his feelings. The horror of the movie mostly just comes from the fact that the catalyst for Jim's journey is Linda's dalliance with the supernatural. I think the effect it had on me when I was little had more to with my age rather than the movie's content. Similar to how I've outgrown my fear of Ouija boards, it seems I've outgrown my fear of Witchboard as well.
RATING
5 – Average
Witchboard is more thriller than horror, and more dramatic than horrific. I think even people who can't watch horror movies could watch this without being too scared. That's not to say it's a horrible movie, but I wouldn't say it's great either. It's a pretty average movie that unfortunately does feel pretty dated. I think most people, especially horror fans would be okay skipping this one, but those who are interested in watching what is probably one of the more recognizable low budget horror movies from the eighties probably won't be too disappointed.
RECOMMENDATION FOR FURTHER WATCHING
The Exorcism of Emily Rose (2005)

I tried to think of a really good movie involving a Ouija board as a central element of the plot, but I couldn't. So instead, I'm going with a movie that I really like that straddles multiple genres. Whereas Witchboard feels like a thriller most of the time, The Exorcism of Emily Rose is essentially a courtroom drama. I would say that Emily Rose is definitely scarier than Witchboard, but both use the supernatural to a similar extent. Which is to mean, the supernatural elements support and drive the story, but they aren't necessarily the main point.
The Exorcism of Emily Rose is about a young woman (Emily Rose) who died during an exorcism. The priest who performed the exorcism is arrested for her death, and the movie takes place during his trial. The interesting thing about The Exorcism of Emily Rose is that the story is told from two different perspectives: one in which the events of Emily's life and death are portrayed as if she was actually possessed by a demon, and another in which the events are explained and shown from a completely natural perspective. It's a very interesting premise and is very well done. This was also one of Jennifer Carpenter's first major roles.
Watch the trailer for The Exorcism of Emily Rose.

DETAILS
Title: Witchboard
Year: 1986
Director: Kevin Tenney
Writer: Kevin Tenney
Featured Cast: Todd Allen, Tawny Kitaen, Stephen Nichols
Run Time: 98 minutes
Availability: Available on DVD and Blu-Ray