I've been to a few horror conventions over the years, and one things I've always found interesting are the celebrity guests who are essentially selling themselves to the fans. There are always a few big-name stars who constantly have fans lined up at their tables and who sell stacks of photos, but there are also those people whose star has faded. Their tables are rarely seen with more than a fan or two, and their stacks of photos never get shorter. I've always felt bad for those people. It's kind of sad to see them sitting there alone, surrounded by pictures that show them what made them famous and remind them of how much they've lost. It's this type of sad, faded star that is the subject of the new black-comedy horror short Conventional.
Conventional was written and directed by Karen Gillan who is most famous for her roles in Dr. Who and Guardians of the Galaxy, though she's no stranger to horror having starred in the 2013 film Oculus. Gillan stars in Conventional as Rachel Milligan, a scream queen whose claim to fame was a stereotypical slasher sequel titled Axe Wound 2. She's attending a convention as a celebrity guest, but the only people approaching her table or attending her panels are a few random (and creepy) people cosplaying as the killer from her movie.
Rachel goes through the motions, taking pictures and trying to act excited for her few fans, but her heart obviously isn't in it. She doesn't want to accept what her brush with fame has turned into, but the reality of her situation is staring her in the face. She's having a breakdown, but how far will she fall?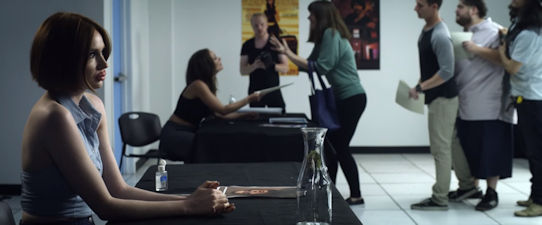 The run time for Conventional about nine minutes, but in that time Gillan manages to create a nice story. She uses some easily recognizable character types and situations as a kind of shorthand to help get people into the story right away. Anyone who has attended a convention of this type will be familiar with the awkwardness of fan/celebrity interactions at photo ops and in panels, and everyone is probably familiar with the forgotten celebrity who can't let go. This familiarity makes it easier for the audience to understand and accept it when it goes from sad to dark pretty quickly.
Gillan also does a nice job making Rachel seem isolated in the way she directed Conventional. Rachel is rarely seen in the same shot with another person, and if she does share the screen with someone else she rarely looks directly at them even when speaking. She talks at people rather than to them. There are also some nice wide shots that show her as pretty small against a wide background. It all really shows her detachment from other people.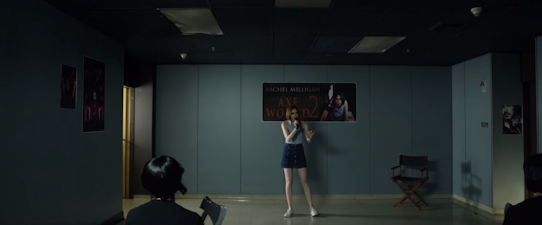 The one thing that kind of throws me is her choice of makeup for Rachel. She has these huge red lips that look almost exactly like the old wax lips candy. I assume it's supposed to look like collagen injections and represents Rachel's need to hold onto the past to try to remain relevant, but it's kind of distracting. Especially in closeups where you can see that the top of the lip isn't even connected to her face. Even so, the odd lips do play into a comedic tone which seems intentional.
The story itself is really quite sad, but the overall tone is darkly comedic. Some of the comedy is subtle, like the awkwardness of creepy fan interactions, but at other the times the comedy is very overt. Even more than being a horror short, Conventional is a black comedy. For me, I found it kind of hard to laugh. I cringed more than anything because I couldn't help but think of the next convention I'll go to, trying to avoid eye contact with the people that don't have any fans at their tables because I feel bad about not buying a picture.
RATING
6 – Pretty Good
I recommend that big fans of horror, especially fans who have gone to conventions, give Conventional a watch. There will be enough that rings true to keep you entertained. Also, at around nine minutes, even if you don't like it you didn't waste very much time.
DETAILS
Title: Conventional
Year: 2015
Director: Karen Gillan
Writer: Karen Gillan
Featured Cast: Karen Gillan, James Ransone, Matty Cardarople, Lara Sebastian, Michael May, Ryan Turek
Run Time: 9 minutes
Availability: Watch online at Fun Size Horror.